ADOPTION PROGRAM
In 1995, Secretary Betty McCain of the Department of Cultural Resources issued the following Proclamation: "The Corolla Wild Horses are one of North Carolina's most significant historic and cultural resources of the coastal area." In May of 2010, Governor Beverly Purdue signed legislation designating the Colonial Spanish Mustang as the North Carolina State Horse.
Would you like to make a heritage breed horse a part of your family?
If a wild horse becomes too habituated to humans, becomes seriously ill, or critically injured, the Fund may have to capture and permanently remove him or her. We also remove and raise orphaned foals.
Once rehabilitated, a wild horse cannot be returned to the wild because it has been exposed to domestic horses either at the equine hospital or stable where it received care. A disease could be carried back to the wild herd for which they have no immunity. Additionally, in the course of saving the horse's life, it will need to be handled extensively. It would be extremely likely to approach humans if returned to the wild.
Horses of all ages are generally available. All are gentled and most are saddle trained. Horses are trained at Mill Swamp Indian Horses in Smithfield, VA; Martin Community College in Williamston, NC; and by the Fund's Herd Manager.
All horses are tested for EIA, vaccinated, feet are trimmed; wormed, and qualify for registration with the Horse of the Americas' Registry www.horseoftheamericas.com as Colonial Spanish Mustangs.
Adoption Requirements, Application, & Agreement
Please read the requirements and application very carefully before completing (click here). A $100 deposit is required with the application and an additional $515 is due upon approval. The Corolla Wild Horse Fund, Inc. evaluates applications in the order in which they are received.
Offsite Breeding Programs
The Colonial Spanish Mustang is on the critically endangered breed list of the American Livestock Breed Conservancy. In an effort to conserve the breed, the Fund now has two offsite breeding programs: Stallions are standing at Karma Farms in Marshall, TX www.karmafarms.com and Mill Swamp Indian Horses www.msindianhorses.com in Smithfield, VA. If you are interested in becoming an offsite breeding location, please call us at 252-453-8002 or email us.
Questions?

Contact us at (252) 453-8002 or e-mail our herd manager, Julie Horan.
HORSES AVAILABLE FOR ADOPTION:
On June 29, 2012, Firecracker was found with an infected umbilical cord. For fear that without treatment, and possibly surgery, he would become septic and possibly die, Firecracker and his mother were removed to receive veterinary care. After a thorough exam by the veterinary it became apparent that something was also terribly wrong with his mother.… Read More
READ ABOUT OUR HAPPILY ADOPTED HORSES:
Our wonderful Creed now resides in Asheville, NC with his new owner Jim Kelton and will take part in endurance riding. It was bittersweet to see him go, but we are very happy and proud of him.
Creed is a Colonial Spanish Mustang.… Read More
Congratulations to Krysta Rutherford of Smithfield, VA. Krysta and her family have adopted Marta (now named Katalina). Katalina will be trained with the help of Steve Edwards, Mill Swamp Indian Horses.… Read More
ADOPTED Summer of 2013!  Her new home and family are in Kentucky!  Flicka is a beautiful chestnut mare with a flaxen mane and tail. She was removed from the wild because her foal, Felix, was in need of veterinary care.… Read More
ADOPTED Fall of 2013!  Maria and Carlos were both adopted by the same family, and their new home is in Tennessee!  It is reported that Tennessee pasture grass might just taste better than dune grass!  Carlos was born in the wild and found abandoned in the summer of 2013. … Read More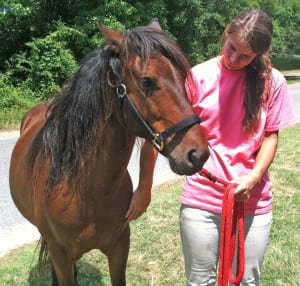 Rico was removed on July 16, 2012 with a fractured coffin bone and loose bone fragment. Surgery to remove the fragment only has a 10% success rate and a 90% of permanently crippling him. Instead of surgery, Rico's lower right front leg was put in a cast for several weeks, and his status was monitored closely.… Read More
Tresie has been adopted and is moving to Westminster, MD!
Tresie is an 8 year old mare who was rescued from the wild in 2006 with a severely injured right hind hoof. After surgery and a cast for 6 weeks she recovered and is now completely sound.… Read More
Meet Thunder, a beautiful bay Colonial Spanish Mustang gelding, removed from the wild herd in January of 2012. Thunder is a handsome three year old born May, 2009. He stands at about 12.5 hands and is still growing. From January 30 to May 9, 2012, Thunder was enrolled in the equine technology program at Martin Community College.… Read More
This is Ash, a two year old black Colonial Spanish Mustang Gelding, removed from the herd in January, 2012. He is an absolutely gorgeous horse with classic Spanish carriage, standing at 12 hands. Ash is currently being trained by our herd manager, Wesley Stallings, and is progressing very quickly.… Read More
Solomon is a handsome bay gelding removed from the wild herd of Colonial Spanish Mustangs January, 2012. He was born the spring of 2009, stands about 12.5 hands, and is still growing. From January 30 to May 9, 2012, Solomon was enrolled in the equine technology program at Martin Community College.… Read More
Bonita has been very happily adopted by Tami Thurston of Tarboro, NC the director of the Equine Technology program at Martin Community College and owner of Thurston Quarter Horses. Bonita has finished her training in the equine program at Martin Community College and has moved to her new home.… Read More
Amarosa has been adopted by Briana Apgar! We are so happy to see her go to her new home where she is much loved.… Read More
Manteo is a stunning black stallion adopted by Steve Edwards of Smithfield, VA. Manteo had a severe locking platella which required surgery from which he is now fully recovered. He leads an active lifestyle and has completed several trail rides consisting of 50 miles in one day.… Read More
We are happy to announce that Stormy has been adopted by Van and Donna Overdorff of Indiana, PA! He is going to an excellent home. Van and Donna are also the proud owners of another of our Colonial Spanish Mustangs, Curly, adopted in 2009.… Read More
Kelly and Joshua Roche are now the proud owners of Edward Teach! Edward Teach was rescued from the wild herd after suffering a severe injury to the right side of his neck. He was nursed back to health with the excellent care of the Dominion Equine Hospital and Steve Edwards of Mill Swamp Indian Horses.… Read More