Would you like to be an important part of helping to protect and conserve the wild horses of the Currituck Outer Banks? Give a gift with meaning? Involve your classroom or organization in a worthwhile project? CWHF offers an exciting, personalized program supporting the CWHF mission.
Sponsors receive a beautifully embossed 8.5×11 leatherette presentation folder, complete with a color photo of the sponsored horse, an official sponsorship certificate, and information about the horse's life. In addition, sponsors receive updates on their horse and the efforts and activities of the Corolla Wild Horse Fund. Sponsorships are symbolic, meaning that sponsorship dollars support all horses and the CWHF mission.
Horse Sponsorship is a form of CWHF membership, and sponsorships are renewable annually. A typical sponsorship is a $75 donation, but you may donate more if you like. Here are a few great ways to participate:
In addition to individual names, certificates can be made in a family, organization, or business name, e.g. "The Hansens" or "Corolla YMCA," etc. Just let us know in the "Additional Comments" section.
Do you know someone who loves horses? Perhaps a son, daughter, niece or nephew, or family? Just tell us to whom we should send the sponsorship documents, and in whose name the certificate should be made. A gift sponsorship is a great way to introduce someone to charitable giving and to the wild horses of the Outer Banks.
Print the Sponsor by Mail Form and mail in your sponsorship request. Both regular and gift sponsorships can be made by mail.
For just $35 for a half day or $70 for a full day, you can sponsor our Hay For A Day program and help support the horses under the Fund's care. We spend about $25,000 a year on hay, so every little bit helps!
Need Help? You can email Donor Programs, or call 252-453-8002.
Rescued Horses Available for Sponsorship:
Horses with life-threatening injuries or illnesses are removed from the wild for veterinary attention and rehabilitation. Once removed, rescued horses are not returned to the wild. They become the responsibility of the Corolla Wild Horse Fund. Rescued horses are rehabilitated, gentled, and trained. They become available for adoption through the Corolla Wild Horse Fund's adoption program.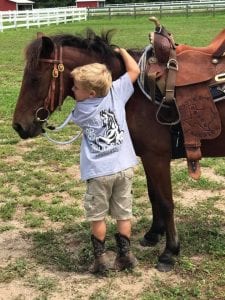 Noel – Rescued Mare. Noel was rescued after becoming stranded in one of the Canals in the Corova area. After rescue, x-rays showed that she had a fractured femur. CWHF brought her in from the wild for care and rehabilitation.
Amadeo – Rescued Stallion. Amadeo, who had been blind in one eye, lost sight in his other eye after a fight with a rival stallion. Disoriented, he charged into the sea where he nearly died. CWHF partnered with Corolla Ocean Rescue to bring him back to shore.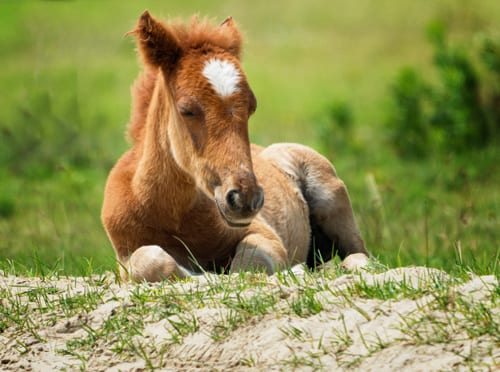 Felix – Rescued Colt. Felix's mother was much too young to fully care for him, and it was reported that he may have ingested some stray fishing line on the beach. Felix is almost seven years old and is being worked under saddle, driven, and has even competed in trail classes. Felix is available for adoption.
Buster – Rescued Colt. He has been returned to us after six years of loving care by his original adoptive family. Back with the CWHF, he is continuing his training and has been an important part of our offsite education events. Buster has a very gentle, friendly personality and is a a quick learner.
Roamer – Rescued stallion. Roamer is a 13-year old stallion who persistently swam around the south sound-side fence and was in danger of being struck by a vehicle. A year after being rescued he is now settling into his new role as an Ambassador Horse.