A Musical Fundraiser for the Corolla Wild Horses
Like most nonprofit organizations, Corolla Wild Horse Fund has had a trying year.
"If I had a nickel for every time I've used the word 'challenging' to describe this year, the fund would be in great financial shape right now," Corolla Wild Horse Fund Chief Operating Officer Jo Langone says.
Those challenges are partially related to COVID-19 and the lack of the usual funding sources. Corolla Wild Horse Fund (CWHF) raises approximately 85 percent of its budget through donations, special events, memberships, sponsorships, grants and merchandise sales. Every dollar they raise helps their mission of protecting and conserving the Colonial Spanish Mustangs living on the northern Outer Banks.
The Corolla Wild Horse Fund's two facilities, a museum store in Corolla Village and a rescue farm/rehab facility on the Currituck mainland, have been closed all summer. Both locations are places where the CWHF interacts with the public, forming relationships with new people and generating income through donations and retail sales.
While the fund's income has been greatly reduced this year, the small CWHF staff has continued to do their jobs, looking out for the 90 or so wild horses on the Currituck Outer Banks as well as the 17 formerly wild rescues at their rehab farm.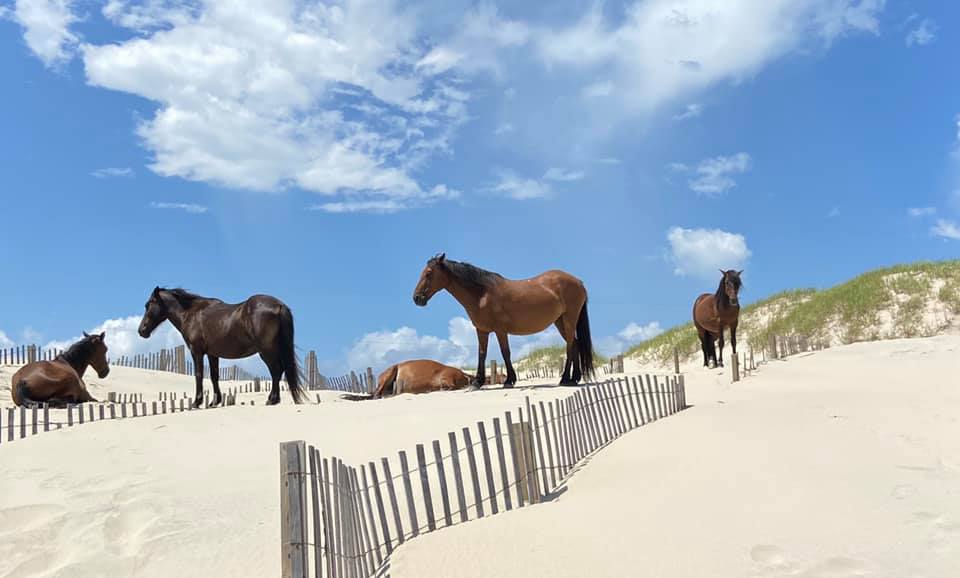 "The horses are fine," Langone says. "But we're having a hard time connecting with people, and it's harder to gain new support for the horses."
To continue to fund their work, CWHF is depending on their donors, supporters and social media followers. They've also looked to new fundraising opportunities. This summer they started a Porch Pickup retail operation in which people can buy goods from the Museum Store without coming inside the 100-year-old house that cannot accommodate safe social distancing. Patrons can purchase t-shirts, hats, calendars, books and other items outdoors. Patrons can also purchase Paint a Mustang kits, since that weekly in-person event has also been canceled.
This week CWHF kicked off another unique fundraiser: an original song and video about the Spanish Mustangs of the Outer Banks. The song, video and lyrics are available for download for $5, and all the proceeds go directly to CWHF. Donors can increase their donation as well. In addition to raising funds, the song is a way for the fund to give something memorable to its supporters.
"We have so many wonderful supporters, donors and social media followers," Langone says. "For this fundraiser, we wanted to give something back, something truly memorable and from our hearts."
"Castaño" is a catchy, lighthearted song that tells the historical story of the herd and its lineage with a focus on a particular horse named Castaño, a current member of the herd.
Kelly Wilkes, a CWHF volunteer, and Janet Martin, an artist/songwriter from Richmond, wrote the song and donated it to CWHF. Inspired by Castaño, one of her favorite horses in the herd, Wilkes formed an idea for the song and asked her friend Martin for help.
"I contacted Janet with a song idea and just a few lines I had struggled with, and she ran with it, and it turned into more than I could have ever expected," Wilkes says.
The two worked on the song when they were together on the Outer Banks in early March.
"I spent part of the day walking on the beach, mulling over the history of this place, how free these horses have been for centuries here and what they've endured," Martin says. "I went back to the cottage, picked up my notepad and guitar, and the song pretty much wrote itself."
A few of the lyrics:
Just a chestnut colt against a sky so blue
Mighty little colt, ain't nothing he can't do
The sand and surf know the mystery
of his legacy…
Castaño, you thunderbolt
Castaño, mighty little colt
Castaño, you're a sight to behold
You're a legend age old, Castaño
The recorded version "Castaño" features Janet Martin on vocals, guitars and bass; Daniel Clarke, noted pianist for K.D. Lang and Ryan Adams, on piano and organ; and music producer Bruce Olsen on drums/percussion and song engineering/producing. Linwood Bell, known for his work with Graham Nash, Josh Grobin and the Boston Pops, composed and performed the orchestral arrangement.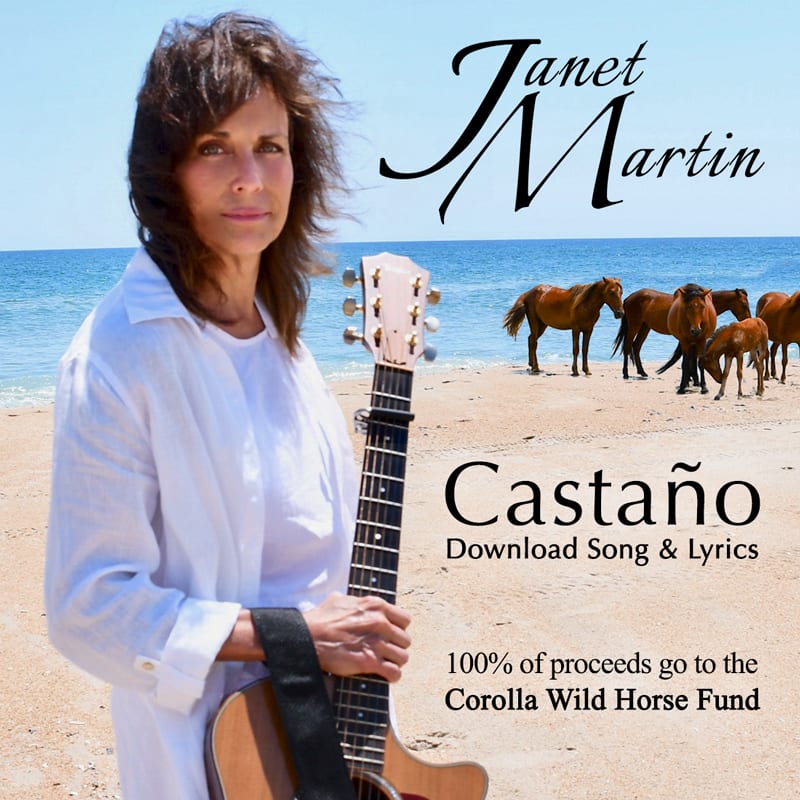 A 60-second song clip/video preview is available on YouTube, and the full song, video and lyrics can be downloaded through the CWHF website.
The video production of the song features images and videos of the horses in Corolla. It's a beautiful tribute to the horses and will be loved by anyone who appreciates them.
"This song is for everyone who loves these legendary horses and the Outer Banks," CWHF Herd Manager Meg Puckett. "It will resonate with this community as well as those who visit here."
After a tough summer, which has included a few tragic events for the herd, Langone is thrilled with this pleasant offering for her supporters.
"This has been such a pleasure," Langone says. "It's nice to have something positive and uplifting to focus on."
How to Buy the Song
The "Castaño" song, video and lyrics are available on the Corolla Wild Horse Fund's website as a download for $5. Supporters will be given an opportunity to donate more.
https://www.corollawildhorses.com/wp-content/uploads/2020/08/Janet-e1598566539325.jpg
894
1209
Corolla Wild Horse Fund
https://www.corollawildhorses.com/wp-content/uploads/2023/11/CWHF-holiday-logo-2x.png
Corolla Wild Horse Fund
2020-08-27 18:16:59
2020-08-27 18:16:59
A Musical Fundraiser for the Corolla Wild Horses